I'm very pleased that lockdown has been eased and we can now form social bubbles with other family members, while keeping socially distant.
Me in my garden
Like many of the children I interviewed a few weeks ago, I have become very tired of being at home. I don't really have home-schooling (I'm 3) so it's been very boring. I now know every centimetre of my garden, and I have been helping by doing a lot of digging (which hasn't been appreciated). The very nice dog at the bottom of my garden seems to have moved on – I think she was staying there at the beginning of lockdown but must have changed home. And my bro Alfie is only really interested in eating and sleeping. He plays with me a bit, but not as much as I'd like, and doesn't seem to react any more when I drop toys on his head.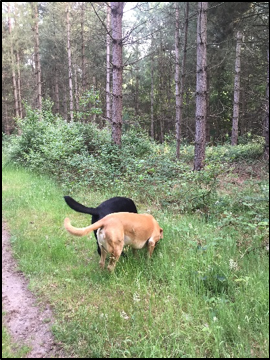 Me and Alfie on our morning walk
So to meet up with my sister Holly at the weekend was very exciting. We had a barbeque in the garden at Uncle Boris's home in the country which has lots of trees and places to hide. And there were sausages to eat. My Auntie Lola was there too – Alfie loves her.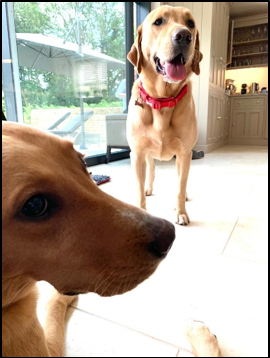 Me, reunited with my sister Holly, at last!
Lola
Boris wasn't there though. He was in hospital having his leg fixed after he tore his cruciate ligament by putting it down a rabbit hole. He's back home now but has to rest – poor Boris; I'm sending him lots of love and good wishes.
Boris – home now 🙁
Let's hope we can all visit each other freely soon and not have so many restrictions, but the scientists say we still have to be very careful. I'm very glad dogs don't have to wear masks.
Lots of love and keep safe
Digby xxx