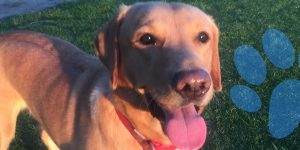 At FK&Y we're currently talking to children and young people about how they are coping with the unprecedented situation that we all find ourselves in. An important member of our team however is also experiencing lockdown. Here, Digby the Dog shares his view of lockdown.
Hello, my name is Digby. I'm 2 ½ years old and I'm a fox-red Labrador. I've been with FK&Y since I was 10 weeks old, so I'm pretty knowledgeable about research and researchers. Some of you may have met me if you've been to our offices.
Usually I go in on a Friday, and after I have my breakfast I sit on the door mat, just to make sure they don't forget to take me. No-one can understand how I know it's Friday, but there's a lot about us dogs that is not understood.
As a working dog, I thought I'd write this blog, to explain what it's like to be a dog at this time of lockdown.
Well for me, I'm loving it.  And I thought I'd start by telling you the good things about lockdown for a dog. First, I'm getting undivided attention, 24 hours a day. It's some sort of displacement I think, but they seem very pleased to have me, and I'm definitely getting more pats and cuddles a day than in normal times. Also, I'm getting 2 x 1 hour walks a day. Humans only get to have 1 hour's outside exercise a day, but because I live with 2 humans, I get an hour in the morning, and an hour in the evening! It's brilliant.
Because they are at home all the time, they are also finding ways to distract me. So I have 3 lighting up balls – which light up when they are thrown. I'm really good at retrieving, so I never lose them, and I feel able to ask for the balls to be thrown, again and again, and again. And they are.
This is possibly to stop me barking at my neighbour, a very pretty white Scottie dog, who lives at the end of my garden (yes, I'm lucky enough to have one). What they don't understand is that when we bark at each other we are actually saying hello – they think we don't like each other but actually we have developed a really good relationship, one which I hope will continue after lockdown.
And then there's the communication with lots of people through Teams and Zoom and Facetime and Houseparty and WhatsApp calls. I love it. People I don't even know talk to me and make funny faces and seem to think I'm quite cute. And I'm meeting everyone's dogs and cats and pet rabbits, and even chickens.
Although sometimes I'm kept out of the meetings – not sure why but they say it's because it's a 'presentation', or a 'serious meeting' with a government department. Strange.
When I next write, I'll tell you about the things that are not so good about lockdown – I need a day or so to think of them, might be a short blog though.
Keep safe, much love
Digby X